August 31st, 2011
Best Known Man In the World…
Well Sulio's boss thinks for a minute and then comes up with a name. "Tom Selleck! I bet you don't know Tom Selleck!" Sulio says "Tom Selleck! Tom and I were in boy scouts together when we were kids!" but Sulio's boss says "No you weren't!" then Sulio says "Yes we were!" so they fly to Hollywood and drive up to Tom Selleck's house. Sulio knocks on the door and Tom Selleck answers and Sulio goes "Tom!!!" and Tom goes "Sulio!" and they hug and catch up for 30 minutes and Sulio's boss can't believe it. But then he thinks "Well that could happen, it's just one person," so he tells Sulio and Sulio says "OK, pick somebody else!"
This time Sulio's boss has someone in mind! "The president, Bill Clinton! You don't know Bill Clinton!" but Sulio says "Oh yes I do! Bill and I were on debate team together in college!" Sulio's boss says "No you weren't!" and Sulio says "Yes we were!" so they fly to Washington and they catch up with the President at a press conference. They work their way through the crowd until Sulio get's close enough to catch Clinton's eye and waves "Bill!" and the President waves "Sulio!" and after the press conference they hug and catch up for 30 minutes and Sulio's boss is stunned– he can't believe it. But then he thinks "Well that's just two people in one country– that doesn't mean he knows everyone in the whole world!" so he tells Sulio and Sulio says "OK, pick someone out of the world spectrum and I know them!"
And Sulio's boss knows just who to pick so he says "The Pope! You do not know the Pope!" and Sulio says "The Pope! The Pope BAPTIZED me!" and Sulio's boss says "No he didn't!" and Sulio says "Yes he did!" so they fly to Rome where the Pope is giving Mass in front of hundreds of thousands of people. They work their way through the crowd– without much luck– so Sulio says "Boss, we're never gonna get there together through all these people so I tell you what–I'll work my way up there and when I do, I'll give you a sign that shows you I know the Pope!" and he leaves. Well Sulio's boss waits and waits and waits and just when he's about to give up, he sees the Pope come out onto the balcony and right there beside him is Sulio!
Shortly afterwards, Sulio's boss passes out. Sulio comes back and finds his boss passed out and he fans him and says "Boss! Boss! Wake up!" and when his boss comes to, he asks "Boss what happened?" Sulio's boss looks at Sulio and says "OK, I can see Tom Selleck. I can see Bill Clinton…hell, I can even take the Pope! But when somebody standing next to me asks 'Who's that up there with Sulio?' that's a little more than I can take!
Filed under: Funny Stuff | No Comments »
August 30th, 2011
Filed under: Photos | No Comments »
August 29th, 2011
Remember this regular bit on Saturday Night Live? Gilda Radner and Jane Curtain had a lot of fun with this goofy skit.
Roseanne Rosanadana for president! (Spiritually, of course)…
Filed under: Funny Videos | No Comments »
August 27th, 2011
$100,000
A very wealthy man, old and desperately ill, summons to his bedside his three closest advisors: his doctor, his priest, and his lawyer. "I know," he says, they say 'you can't take it with you.' But who knows? Suppose they're mistaken. I'd like to have something with me, just in case. So I am giving each of you an envelope containing one hundred thousand dollars and I would be grateful if at my funeral you would put the envelopes in my coffin, so that if it turns out that it's useful, I'll have something. They each agree to carry out his wish.
Sure enough, after just a few weeks, the old man passes away. At his funeral, each of the three advisors is seen slipping something into the coffin. After the burial, as the three are walking away together, the doctor turns to the other two and says, "Friends, I have a confession to make. As you know, at the hospital we are desperate because of the cutbacks in funding. Our CAT SCAN machine broke down and we haven't be able to get a new one. So, I took $20,000 of our friend's money for a new CAT SCAN and put the rest in the coffin as he asked."
At this the priest says, "I, too have a confession to make. As you know, our church is simply overwhelmed by the problem of the homeless. The needs keep increasing and we have nowhere to turn. So I took $50,000 from the envelope for our homeless fund and put the rest in the coffin as out friend requested."
Fixing the other two in his gaze, the lawyer says "I am astonished and deeply disappointed that you would treat so casually our solemn undertaking to our friend. I want you to know that I placed in his coffin my personal check for the full one hundred thousand dollars."
Filed under: Funny Stuff | No Comments »
August 26th, 2011
Filed under: Photos | No Comments »
August 25th, 2011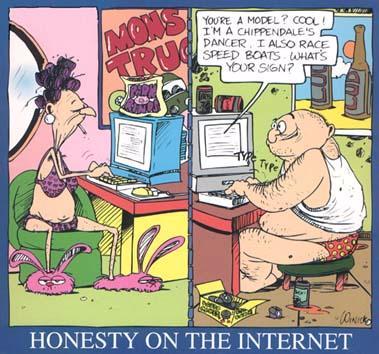 Filed under: Cartoons | 3 Comments »
August 24th, 2011
Filed under: Cartoons | No Comments »
August 23rd, 2011
JACK (age 3) was watching his Mom breast-feeding his new baby sister. After a while he asked: 'Mom why have you got two? Is one for hot and one for cold milk?
MELANIE (age 5) asked her Granny how old she was. Granny replied she was so old she didn't remember any more. Melanie said, 'If you don't remember you must look in the back of your panties. Mine say five to six.'
STEVEN (age 3) hugged and kissed his Mom good night. 'I love you so much that when you die I'm going to bury you outside my bedroom window.'
BRITTANY (age 4) had an ear ache and wanted a pain killer. She tried in vain to take the lid off the bottle. Seeing her frustration, her Mom explained it was a child-proof cap and she'd have to open it for her. Eyes wide with wonder, the little girl asked: 'How does it know it's me?'
SUSAN (age 4) was drinking juice when she got the hiccups. 'Please don't give me this juice again,' she said, 'It makes my teeth cough.'
DJ (age 4) stepped onto the bathroom scale and asked: 'How much do I cost?'
CLINTON (age 5) was in his bedroom looking worried when his Mom asked what was troubling him, he replied, 'I don't know what'll happen with this bed when I get married. How will my wife fit in it?'
TAMMY (age 4) was with her mother when they met an elderly, rather wrinkled woman her Mom knew. Tammy looked at her for a while and then asked, 'Why doesn't your skin fit your face?'
JAMES (age 4) was listening to a Bible story. His dad read: 'The man named Lot was warned to take his wife and flee out of the city but his wife looked back and was turned to salt.' Concerned, James asked: 'What happened to the flea?'
The Sermon I think this Mom will never forget…
This particular Sunday sermon started this way. 'Dear Lord,' the minister began, with arms extended toward heaven and a rapturous look on his upturned face. 'Without you, we are but dust…' He would have continued but at that moment my very obedient daughter who was listening leaned over to me and asked quite audibly in her shrill little four year old girl voice, 'Mom, what is butt dust?'
Filed under: Funny Stuff | No Comments »
August 22nd, 2011
Check out these spectacular spills by both adults and small fries. Funny stuff…
Filed under: Funny Videos | No Comments »
August 21st, 2011
Eve's side of the story…
After three weeks in the Garden of Eden, God came to visit Eve. "So, how is everything going?" inquired God.
"It is all so beautiful, God," she replied. "The sunrises and sunsets are breathtaking, the smells, the sights, everything is wonderful, but I have just one problem. It's these breasts you have given me. The middle one pushes the other two out and I am constantly knocking them with my arms, catching them on branches and snagging them on bushes. They're a real pain."
And Eve went on to tell God that since many other parts of her body came in pairs, such as her limbs, eyes, ears, etc. She felt that having only two breasts might leave her body more "symmetrically balanced".
"That's a fair point," replied God, "But it was my first shot at this, you know. I gave the animals six breasts, so I figured that you needed only half of those, but I see that you are right. I will fix it up right away." And God reached down, removed the middle breast and tossed it into the bushes.
Three weeks passed and God once again visited Eve in the Garden of Eden. "Well, Eve, how is my favorite creation?"
"Just fantastic," she replied, "But for one oversight. You see, all the animals are paired off. The ewe has a ram and the cow has her bull. All the animals have a mate except me. I feel so alone."
God thought for a moment and said, "You know, Eve, you are right. How could I have overlooked this? You do need a mate and I will immediately create a man from a part of you. Let's see… where did I put that useless boob?"
Filed under: Funny Stuff | No Comments »