June 30th, 2010
Is there anything sweeter than the thrill of victory? We Boomers have been around long enough to know that the "agony of defeat" is part of life. It's that agony that makes the victory so sweet. We pay a price for our victories… but it's so worth it.
We saw it again on the national stage as South Carolina won a hard fought, extra inning, nail biting baseball game against UCLA in the NCAA National Championship College World Series here in Omaha. When the winning hit drove the winning run across home plate 24,500 fans erupted in spontaneous cheer.
Players and coaches from South Carolina mobbed each other on the infield at Rosenblatt Stadium while South Carolina fans whooped it up in the stands. Millions of fans across the nation watching on TV had to be smiling as they watched college kids celebrate the biggest athletic achievement in their young lives.
The vast majority of us don't even know the names of the players that were delirious on that field. But we know how rare it is to win a championship. No matter which school grabbed that prize, all of us could be happy for the winners. The UCLA program will have another chance to win the championship another day. For now, good for you, South Carolina.
Go Gamecocks!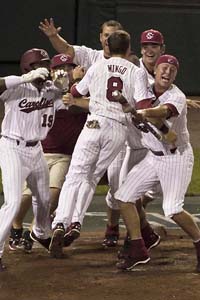 Filed under: Funny Videos | No Comments »
June 30th, 2010
Look out! They're at it again. Now, it's the belly dancing dynamic duo. Shake those hips, ladies…
Filed under: Funny Videos | No Comments »
June 30th, 2010
1.  This being Easter Sunday, we will ask Mrs. Johnson to come forward and lay an egg at the alter.
2.  Thursday at 5PM there will be a meeting of the little mothers' club. All ladies wishing to be little mothers please meet with the pastor in his study.
3.   Potluck supper: prayer and medication to follow.
4.   Don't let worry kill you off… let the church help.
Filed under: Funny Stuff | 3 Comments »
June 30th, 2010
I have no idea what this guy is saying on air, but I think we can say he  gets into his work (really Phil?). My guess is that he will die a happy man in his announcer chair with a huge smile on his face.
Filed under: Funny Videos | No Comments »
June 29th, 2010
Filed under: Funny Stuff | No Comments »
June 28th, 2010


Baby Boomers are enjoying the good life. Nothing in this life is ever perfect. But if you live right, life is good.

Putting in a lot of good years towards a career you like can give you a nice life style later in life with higher than average income and a decent pension or profit sharing account when you retire. You also benefit from a feeling that you have done a good job for the company that employed you, or you did a nice job for your own company. It's a feeling of satisfaction no one can ever take from you.

Similarly, putting in years of effort toward your family and close friends is a terrific accomplishment. When you love and respect your spouse for many many years your love becomes even deeper than it was when you were first married. When your children become adults after you worked so hard for years to get them educated and wise in the ways of our Creator you feel a sense of pride that you had something to do with it.

When your sons and daughters find true happiness with their soul mates you reach another level of happiness you never felt before. You're happy for your adult child, you're happy for your new in-law, and you're happy for yourself and your spouse.

All of those hectic years raising your children now turn into something very fulfilling as you watch the fruits of your labor unfold before your eyes. All of the plans you discussed with your spouse so many years ago are now front and center in your lives. Wow! The future is here.

When you add to this mix a core group of close friendships that you have nurtured for many years, you can now close the loop on a cycle of life that you will continue to benefit from for the rest of your life.

There is no question about it… we Boomers are enjoying the good life.

Filed under: Blogs from Phil | 4 Comments »
June 28th, 2010
1)  "Before I got married I had six theories about bringing up children; now I have six children and no theories."  — John Wilmot
2)  "Watch your thoughts; they become words.
Watch your words; they become actions.
Watch your actions; they become habits.
Watch your habits; they become character.
Watch your character; it becomes your destiny."  — Lao-Tze
3)  "Courage is not the absence of fear, but rather the judgment that something else is more important than fear."  — Ambrose Redmoon
4)  "The richest man is not he who has the most, but he who needs the least."   — Unknown Author
5)  "When you go into court you are putting your fate into the hands of twelve people who weren't smart enough to get out of jury duty." — Norm Crosby
Filed under: Did You Know..., Inspiration | No Comments »
June 28th, 2010
Filed under: Cartoons | 3 Comments »
June 28th, 2010
Filed under: Cartoons | 1 Comment »
June 27th, 2010
Those beautiful wedding traditions just tug at your heart strings, don't they?
Filed under: Funny Videos | 1 Comment »