September 30th, 2009
It's true. This little guy isn't bad. Watch his finish to the song.
Filed under: Interesting | No Comments »
September 30th, 2009
Many of you remember big Sam. The man was crazy… but very, very funny.
Here is an interview Johnny did with Sam Kinison.
Filed under: Funny Videos, Johnny Carson Videos | No Comments »
September 29th, 2009
We talked a few weeks ago about the fall season and the start of football. The weather outside has been spectacular here in the Midwest and I hope it's the same where you are.
Nice cool nights and open windows make for great sleeping conditions. The leaves on certain trees are now starting to fall and a few are changing colors getting ready for the classic color display of autumn.
What a great time of the year. It is also, of course, a terrific time to be walking outside to see this beautiful display of nature. Flowers around the outside of the house are starting to shrivel up because the great outdoors is beginning to get ready for a winter nap.
We are still facing several colorful weeks ahead to walk in parks, golf, play football in the leaves, and drive to the apple orchards to buy absolutely anything you can think of that is made with apples.
The Harvest moon, sitting on the deck with a jacket drinking hot tea or hot chocolate, carving pumpkins, and maybe even going on a hayrack ride are all great traditions of life during the fall season. Friday night football games followed by a trek with friends to get a pizza. Man, does it get any better than that?
So, all you boomers (and everyone else) get outside and enjoy. Life is good.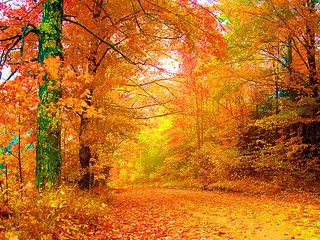 Filed under: Blogs from Phil | No Comments »
September 29th, 2009
Some of these falls make you cringe and some will definitely make you laugh. I personally want to thank all of these wonderful human beings who were willing to humiliate themselves for our enjoyment.
God bless them all!
Filed under: Funny Videos | No Comments »
September 29th, 2009
These goofy cats are very funny. This video has several clips of cats doing strange but hilarious stuff.
Did you know that you can throw a cat up to your ceiling and make it stick? Check it out.
Filed under: Funny Videos | No Comments »
September 28th, 2009
Frank Caliendo is a superb impressionist. Here is his act on the Letterman show some time back.
Very funny guy.
Filed under: Funny Videos | No Comments »
September 27th, 2009
As I watched this guy I thought it was both exhilirating and a little scary. You know, fear of the unknown. But he pulled it off.
Could you try this?
Filed under: Funny Videos | 2 Comments »
September 26th, 2009
Good for him. This is a $1 million dollar golf shot.
"Hey, honey… guess what I did today?"
Filed under: Interesting | No Comments »
September 25th, 2009
I found this video of a baby dancing to a music video on MSN, so some of you have probably already seen this. This is funny to watch.
Check this out.
Filed under: Funny Videos | No Comments »
September 24th, 2009
I remember reading about the U.N. in grammar school and thinking that the reason for its existence seemed to make sense to me. Now, I knew nothing at the time about politics, or coalitions, or dictators. But on the surface, the United Nations had hope.
Not anymore. The U.N. has no teeth… no guts. This organization has let us down too many times in the last several years. Why? I think they cave in on a regular basis to the dictators of this world. Too many employees are corrupt and the U.N. does nothing about it.
Unfortunately, the USA gets little or no respect from many countries around the world. Our history is not perfect, certainly, but our country has done more for other nations than any other government in world history.
We have an attitude about our blessings from God. That attitude is to share our money, resources, and time with any foreign nation that is hurting. We don't ask for anything in return ( a little respect would be nice). Who is there first when disaster strikes? The USA. Who is there with medical help? That same USA. Who sends troops into harms way when evil threatens people of other countries? The USA.
We have done these things around the world on a regular basis almost from the founding of our new republic. And what do we get when our country needs help? Well, we get nothing from the United Nations. A lot of talk and no action. We fight wars alone after the U.N. issues ultimatums and sanctions to dictators who just ignore the warnings.
We get condemnation from countries that are jealous of our success. We are vilified by tyrants and thugs who are terrified that the people under their control will find out about the freedom that we enjoy here in America.
Now,  we have a parade of these brutal dictators that go to the microphone at the U.N. and try to belittle the USA while staying in our country. How sad. The United Nations should be ashamed.
I say let the U.N. move to another city outside the United States. Let's wave good by and good riddance to it as it leaves our shores.
Filed under: Blogs from Phil | No Comments »